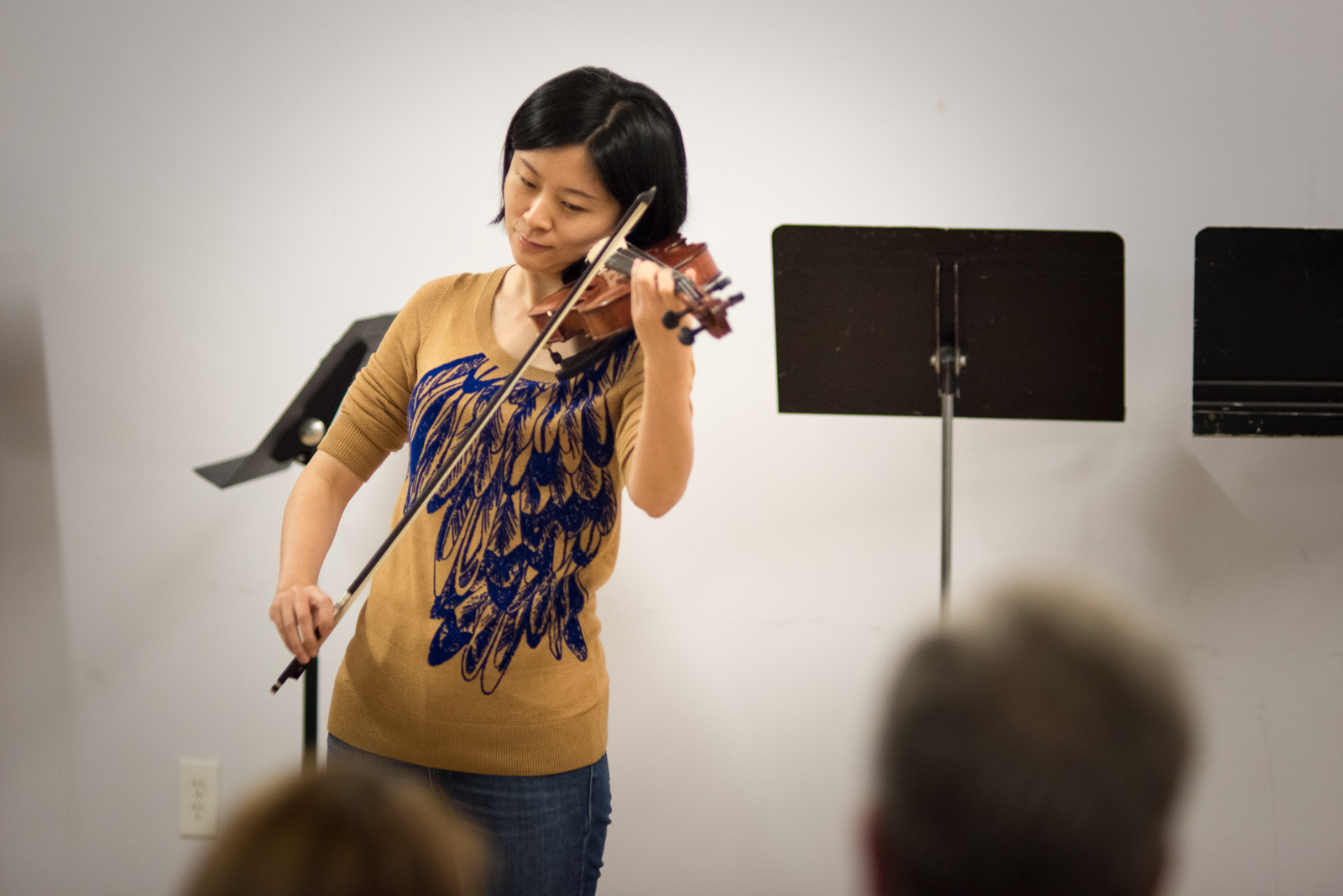 What You'll Need
Students will either need to rent or purchase an instrument to participate in lessons. Affordable violins may be found online, and also from local dealers. For In-Person classes, rental violins are available from the instructor.

It is also recommended that students have a shoulder rest, and clip-on tuner. For more information, please visit this page. If you are renting a violin from the instructor in an In-Person class, the violin will come set up, and complete with everything you will need for class, a violin, rosin, shoulder rest, and tuner.

Adult classes are open to students 13 years of age and older.

A note about fingernails...kind of a strange thing to consider, but some have been unwilling to part with their long fingernails: if you have long nails, taking this course will require that you give them a trim (proper finger position depends on short nails.)

Advice on renting or purchasing a violin.
About Your Teacher
Over the years, I've been delighted to help people make violin and viola playing a part of their lives. I've been teaching for over 30 years in Seattle, and Olympia, Washington, Eugene, Oregon, New York City, and Windham, Maine. While in Eugene I taught for the 4J School District as an orchestra director, and conducted sectionals, and auditions, for the Eugene Youth Symphony. I've taught at the Suzuki Institute of Seattle, Tacoma Youth Symphony Music Camp, and been director of the Thalia Olympic Music Camp, and Seabeck Music Camp.

I have built a school that offers music education for not only children, but also for adults. This school has various programs for all stages in one's musical development, and it is such a school that says: "It is never too late to start. It is never too late to experience, and express through music."

It is my belief that the arts are interrelated and when given an insights into music making, these insights can lend a fresh approach to other processes. Playing an instrument is not merely learning technique, or reproduction of pieces, it can be a diving board for an exciting journey into self discovery through the world of the arts: composers, musicians, dance, theater, visual art and literature. I hope to pass this feeling of inter-relatedness on to my students and to give my students something to take home in their hearts.

It gives me great joy see students discover, and grow. 

Ed Davis

Attendance
Please note that missing class is not recommended, and you will need to practice outside of class! As every class builds one upon another, if you anticipate missing a class, you may wish to schedule a private make-up lesson to keep current with the group.
Meeting Place
In-person group classes will be meeting in one a few locations, Windham, Westbrook, or Portland, ME. Please see course descriptions to learn more. The location of our class will either be below with the enrollment information, or will be sent to you via email after you enroll in the Windham course (please allow 1-2 business days for this info to arrive.)

If you would like to have an optional private lesson added to your course, this lesson can either be in-person in Windham, or online via Zoom.
FAQs
Do I need to know how to read music to take this class?
No, we'll be using a simplified notation that will allow us to focus on playing.
Should I have my violin tuned before class?
Violins, and all strings, need tuning just about every time you wish to play, so one of the skills that we'll be learning in the very beginning is how to tune the instrument.
How long are the lessons and how many students are there in class?
Classes meet once a week for 1 or 2 months and classes are either 1 hour, or 1.5 hours in length (details are in each class description below.) We may be taking a 5 minute break sometime during a longer lesson. Class will be limited to no more than 9 participants in Portland and Westbrook, and at Windham Middle School. In North Windham, class will be limited to 5 students.
How much will I learn in this class?
We are able to cover tuning, stance, holding the instrument and bow, basic bowing and rhythm, fingering technique, and about 3-4 songs.
I have had a month of lessons with another teacher, is this class for me?
If you have had a few lessons, it is still recommended to take this beginner course as we do cover fundamentals. If you have had more than 3 months of lessons,
please write
and describe your experience—you may be eligible to join a class that is further along.
Work sometimes will keep me late, what if I have to miss class?
Students who miss class are encouraged to
schedule a make-up lesson
to stay current with the class. Lessons outside of class are a great way to make up a missed class, or to have extra help.
After this class, will I be able to continue where I left off?
Yes! Ongoing classes will be offered so long as there are students wishing to move forward. Continuing classes may be scheduled at a different time.
If I rent a violin, can I take it home?
Yes, you'll need to practice of course! Rental violins may be returned or renewed by our last class of the session.