Install Zoom Software
You will only need the free version of Zoom chat software to attend group classes and private lessons. If you are planning to use a laptop or desktop computer for our video chat lessons, please download and install "Zoom Client for Meetings". If you're planning to use a tablet or other mobile device for lessons, please install "Zoom Mobile Apps" listed lower on the page.
Seeing Clearly
To be able to see demonstrations clearly, please use the largest screen you have available, laptop to large monitor are recommended. When present in the chat room, in the upper right corner of the Zoom window will be a small icon that will allow you to go to full screen. Another feature, also in the upper right, is the toggle for Gallery view (see everyone in the chat), and Active Speaker view (see only who is speaking or playing.) It is also possible to "Pin" a video so that you only see the teacher. Under Zoom's Preferences, selecting the Video tab gives you the option to "Mirror my video" which reverses your image when seeing yourself in the computer screen; the reverse orientation is as if you are looking into a mirror. Also under Preferences, you may select HD which gives you a better resolution video feed. Though, if you're experiencing problems with the video or are on a slow connection, probably best to leave the HD option deselected.
Use External Speakers
Boosting the audio output of your computer system will help you in hearing examples and playing along; if available, please use external speakers. Headphones may also work, but please keep in mind that you'll want to be able to hear your violin too. Please test first—you may wish to avoid using noise canceling earbuds, or headphones that do not allow you to hear your instrument.
Stand Back a Bit & Camera Placement
To help the teacher help you, please stand away from the camera so that your entire violin and bow arm can be seen. If you are using music, please place your monitor to the left of your music stand. It is best for the teacher when the violin lengthwise position is parallel to the camera, and the downward bow motion is generally in the direction of the camera. It is also good for the teacher when the height of your camera is about equal to your nose or eye level. Please try to avoid camera angles that come from below the level of your instrument.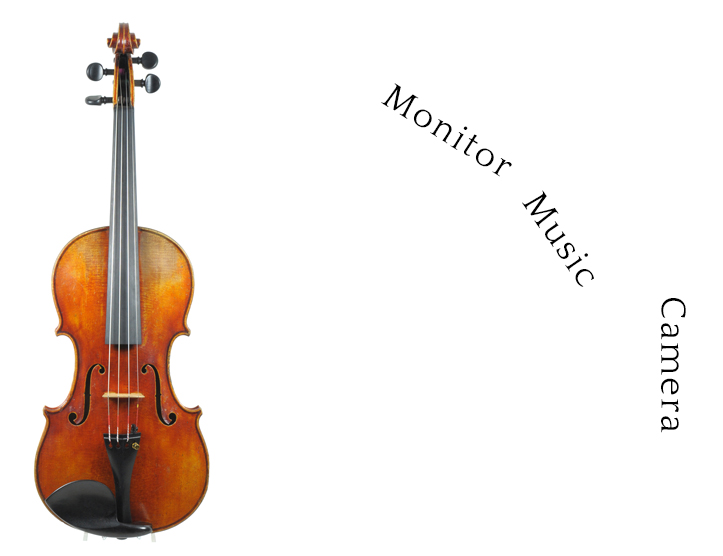 Raise Your Laptop or Monitor
If possible and safe, please raise your monitor so that the top of the computer screen is at eye level. If you are seated, this may be done by placing your laptop or monitor on some sort of riser, stack of books, small table or small chair on your desk, etc. If you are standing, a computer stand, chair on a table, or shelf may bring your computer up to near eye level. Bringing the screen to this level helps you maintain good posture while you follow examples and play along.
Hotspot Connection Better?
Some students have noted that the hotspot connection via a phone is actually faster and more stable than a wired/wireless base station connection. Experiment with connecting your tablet or computer to a phone hotspot if you're having connectivity issues.
Using a Browser
If you are connecting to our lessons using a browser, it is recommended to use Chrome. Though it is possible to access our chat room from a browser, using Zoom's software (on a laptop or desktop) will make available all of the software features and allow for better sound quality.
Provide Better Audio
Under Zoom's Preferences, select the Audio tab. From there you have a few options that make the transmission of music more clear and stable. Select "Show in-meeting option to Enable Original Sound" and also "High fidelity music mode." You may also wish to select "Echo cancellation" if you are experiencing problems with audio echos. After selecting "...Enable Original Sound..." there should be a new option in the upper left of the video chat screen that says, "Turn On Original Sound," toggle this button (turning on "...Original Sound" will enable the higher quality, music audio feed.)
Recommended for Private Lessons: Provide an Additional Angle
If you have more than one tablet or computer, and a strong internet connection, consider logging in both into our chat session, to offer an alternate view for the teacher. If using two angles, please turn off the sound input and output on one of the devices, this step will prevent audio feedback.